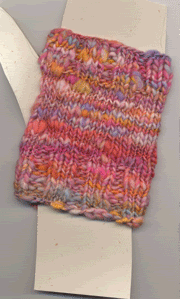 These simple gloves require no shaping and
less than 50 yards of yarn. Size is one size fits
all, measures approx 3 ½ inches across the
base when laying flat.  These gloves are designed
to fit loosely to add warmth without a lot of bulk.
Slip the first stitch of every row when you are
working back and forth and the thumb to create
a nice, even edge.
Materials
50 yards dk or worsted weight yarn.  If you are
increasing the size you may need additional
quantities of yarn.   
Size 5 dpns
Gauge
4 ½ stitches and 5 rows = 1 inch.  Gauge is not critical with these gloves
Directions
Cast on 35.
Top Cuff:
Knit 8 rows knit 3 purl 3 rib
Knit 3 rows st st
Thumb hole:
Turn work.  (You are now working back and forth so as to create an opening for your thumb.)
*Purl 1 row, knit 1 row. *  5 times (10 rows)
Knit 2 rows (in the round again. Make sure you pull the stitches near the thumb opening tight so they
won't gap)
Cuff ribbing:
Knit 12 rows knit 3 purl 2 ribbing
A close up of the glove: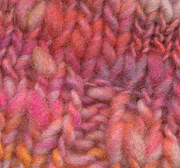 (as per usual, the copyright is 2005 all rights reserved!)