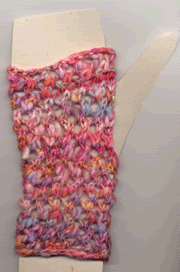 And a close up: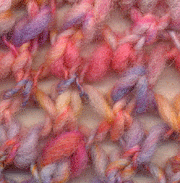 (yum, gotta love that slight thick and thin texture with simple lace!)
No increasing for the thumb required- these
gloves are knit in the round, and back and
forth for the thumb opening.
Size: Medium- increase or decrease size by
and even number to change size
Materials:
-Approx. 50 yards handspun dk or worsted weight yarn
- Size 5 dpns (size 7 if you knit tight)
Gauge- N/A- the lace stretches to fit most
Notes: If you are making a larger size or if you modify the pattern you may require more yarn!  Your
knitting yardage may vary so please make sure you have enough to finish the project!
Abbreviations:
K-knit        K2G- knit 2 together  YO- Yarn over   P-purl CC1- cable cast on one stitch
Directions: (make 2)
Cuff:
Cast on 24 stitches.  Join in round
Row 1:Knit across
Row 2: *K2G YO* around
Row 3: repeat row 2
Row 4: *YO K2G* around
Row 5: knit across
Rows 6-9: repeat rows 2-5
Thumb hole:
Row 1: *K2G yo* until 2 stitches left, K2G, CC1
Row 2:  Turn.  *P* across
Row 3: *YO K2G* around
Row 4: repeat row 2
Rows 5-8: repeat 1-4
Row 9: repeat row 1
Row 10: repeat row 2
Row 11: repeat row 3
Row 12: knit across
Cuff (bottom)
Repeat cuff pattern above (rows 2-5) 5 times.
Bind off.
Weave in ends.
c. 2005 all rights reserved...but that should be obvious, no?