These are designed to be a funky yet tasteful
glove that can be made in a variety of colors
and sizes. Leftovers from a pair of socks work
well for this, and the pattern in designed to accommodate
variations.
Level: intermediate. You need to know how to increase and
decrease and cast on in the middle of row
Size:
One size fits most. To make a larger size use larger
needles. This size is four inches wide at the thumb
and 7 inches long when lying flat.
Materials:
•        1 skein sock yarn, about 200 yards
•        1 pair double pointed needles, size 1
•        sewing or tapestry needle to weave in ends
•        Stitch markers
Gauge:
5 stitches and 7 rows on size one needles in k1p1 rib when knit in the round.  Make sure to check your
gauge so your gloves will fit!
Abbreviations and notes:
K(x)- knit the number of stitches listed after the parenthesis
P(x)- purl the number of stitches listed after the parenthesis
CO- cast on
K2G- knit 2 stitches together
M1- make one stitch by knitting the bar between the stitch just worked and the stitch still on the left
needle. DON'T remove the stitch from the left needle after you do this until you knit the stitch later!
Pm1o- pass the m1 over the stitch you just knit
SM- place a stitch marker
S1- slip one
Psso- slip 1 knitwise, knit one, pass slip stitch over
* *- repeat area between * ( ) times
Directions: (gloves will fit either hand)
Pattern stitch:
Row 1: knit around
Row 2: *k2 m1 k1 pm1o* around
First cuff:
CO 42 stitches.
Join in the round and be careful that you haven't twisted the stitches
Work 10 rows in k1p1 ribbing
Knit 4 rows in the pattern
Begin thumb hole: work thumb in knit only, but continue the pattern stitch around
Knit 18 stitches, SM CO 9 SM knit to end. This count as row 1 of the pattern stitch
Knit 3 more rows in pattern. Remember to work the thumb cast on without the pattern
Decrease the thumb until there are three stitches left between the stitch markers (shown in
parentheses):
*K18 in pattern (k2G knit to last two stitches in marker, psso) knit rest of row in pattern.  Knit 3 more
rows without decreases*
To decrease thumb to one stitch: knit until marker, s1 K2G psso. Knit 3 more rows
End the thumb: knit 17 stitches m1 K2G pm1o. there are now no stitches between the stitch markers, so
you can set them aside.
Bottom cuff:
Knit 3 rows in pattern (you are starting and ending with a knit row here)
Knit 1 more row
Work 20 rows k1 p1 rib
Bind off in purl, weave in ends.
Variations:
•        Knit the glove using stripes either in rows or columns
•        Knit the cuffs in a different color. Even better, knit one glove with cuffs in [a] and main portion in
[b] and the other with the cuff in [b] and the main part in [a]
•        Add beads by stringing them onto the yarn before you start knitting.  This looks especially cool in
the cast on and bind on sections, just slip the bead up on the thread right before you knit a stitch.
Up close: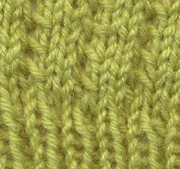 c. 20005 all rights resesrved :)