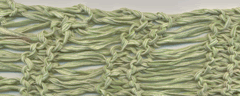 (Hey,
even Snip
likes wearing a simple drop stitch scarf!>
This scarf works up quickly on size 13 needles, uses only 50 yards of yarn, and is suitable for beginners.  
Designed to be worked in a variety of worsted or bulky weight yarns, the scarf can be as funky or
refined as you.  You need to be able to cast on, cast off (bind off), knit, and work yarn overs.
Finished size: 3/12 inches by 48 inches
Materials
1 skein Midnightsky Fibers yarn (50 yards).  Use a worsted weight yarn for a more lacy effect, a bulky
yarn for a warmer version.  (ribbon yarn show is worsted)
1 pair size 13 needles
A crochet hook or needle to weave in ends
Gauge:  
Not terribly important. Finished size is 3 ½ wide, 48+ long.
Instructions:
Cast on 11 stitches, knit 3 rows in garter stitch (knit every row)
Begin pattern:
Row 1: knit 1 *yarn over 3 times, knit 1* across
Row 2: Knit 1 *drop yarn overs, knit 1* across (you are back to 11 stitches now)
Rows 3-4: knit across
Repeat rows 1-4 until you are almost out of yarn. Finish pattern on row 4.  Knit 1 more row.  Bind off the
stitches loosely, weave in ends with a crochet hook or needle.
Please notice that this pattern is copyrighted and as such is protected copyright laws. THe long and short of it is: Copyright 2005 ALL RIGHTS RESSERVED